Listing Details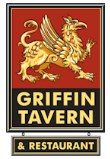 Griffin Tavern
Griffin Tavern in Rappahannock County- Flint Hill, Virginia is a casual dining restaurant and serves as the local social gathering place for everyone.
Located in a renovated 1800's home with 3 cozy dining rooms, outdoor seasonal seating, and featuring the "Cheers Like" pub where locals gather, and passers by come to dine on an eclectic mix of menu items.
We also have rooms upstairs which are perfect for private dining, small functions, and business meetings.
Our menu features home-style cooked meals and pub favorites using fresh ingredients and local products. We offer Fish n' Chips, Tavern Wings, Shepherds Pie, Great Hamburgers, Seafood and Steak Specials, as well as affordable appetizers, salads, and a children's menu.
We have 9 imported beers on tap and a nice selection of Virginia wines. We also have a fully stocked bar with your favorite spirits.
Contact Information
659 Zachary Taylor Highway, Flint Hill Virginia 22627